I was standing beneath the second floor of my neighbors staircase.
The sun was shining brightly and I could smell the scent of freshly cut grass rolling in with the breeze. As I lifted my head to glance up at the second floor stairwell I thought to myself, "this is a very stupid idea."
First, my cousin Marcus jumped. He climbed across the railing, and before I could blink he had jumped like a flash.
Then, it was Isaiah's turn. He slowly put one leg over the rail, and then the other. He held on for dear life and I thought to myself, "at least someone has the sense to be scared." Then, he jumped.
Next, it was my turn.
"Don't let the boys outdo you," I thought, not knowing where the competition was coming from. I just knew I had to be twice as good at everything. So I stepped up to the rail and before I could talk myself out of it, I jumped!
And so, the competition began.
 The facts are clear. According to the Institute for Women's Policy Research, On average, women make 80% of what men make… across the board. And when it comes to women of color the disparities are even wider.
I won't even try to capture the incredible breadth and scope of the contributions that women make to our society and the world. Nor will I outline all the places that we don't get our fair share of the pie. But I will say this:
We are dope, educated, and magical. It's time that we start taking what belongs to us in the most unapologetic and unbothered of ways.
In this article, I'm going to show you how to plan a raise in 90 days.
I know what it's like to go to work everyday, give it everything you've got and hope that someone will notice your effort. Not only do you want to be making more money, but you NEED that money. You have bills to pay and goals to reach.
It seems like just yesterday I was working for a fortune 50 company managing $100 million budgets, and wondering if I would get a bonus or a raise. And, I thought I was doing everything right!
I came to work early (Actually, that's a lie! I'm not a morning person. But, I did stay late!).

I produced excellent results and made lots of money for the company.

I was innovative and implemented new time saving systems.

I even worked on everyone's favorite buzz topic… DIVERSITY!
Yet, when I got behind closed doors and received my offer, it was never what I wanted. And, I was unprepared to ask for more.
But guess what, times have changed.
What if you could increase your income just from sending the right emails, asking the right questions, and connecting with the right people? What if your raise was waiting for you, and you just needed to do 3 things to unlock that bonus money?
Well, I can't guarantee that you will get a raise. But I know that if you don't believe it can happen, then it probably won't. I know that if you never try, you will never move forward. So, let's get to work.
Step 1: Raise Your Standards.
If you want a raise the first thing you have to do is earn it. This is not about getting a raise quickly, this is about earning the raise you want.
I am sure that you are a fabulous person with a ton of skills and a darling personality. And yet, that is not going to get you a raise. Instead, you will need to identify the key skills required for your position and show that you are exceptional in those areas.
To get started, here are some questions that you should ask yourself:
What skills are required to succeed in this position?

What do my managers value most?

What traits do I want to stand out in my performance review?
If you haven't done so already, go ahead and download the Praise to Raise cheat sheet so we can work on this right now.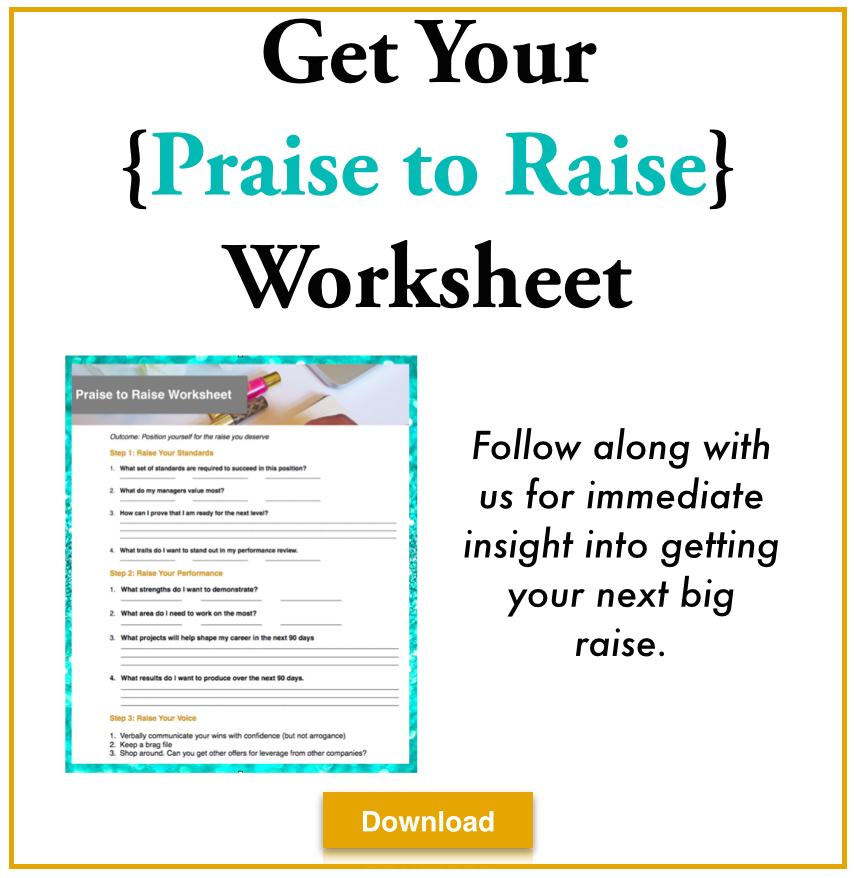 After you answer the above questions, you want to confirm it with the key decision makers.
Start, by requesting a meeting with your manager and from there you can meet with other people who could support you in your effort to get a raise.
In your meetings you will start a conversation that communicates your renewed sense of purpose. The goal is to be authentic as you share your intention to raise your standards and earn a raise!
Share your ideas for growth, sales, cutting expenses, increasing engagement, growing your social media following, or whatever you're working on at the moment. Do a quick brainstorm, get some ideas. You should leave with a fresh perspective on how to demonstrate your greatness, and your manager should have a new sense of you as someone who cares about the success of the company.
If it isn't really part of your company culture to set up meetings with your boss, that's ok. You can just grab them in the hall or wherever you can. Take 1 minute to share your biggest point of focus and determine if you're on the right track. It doesn't matter where you are in your job or career. There is always something you can do to stand out and demonstrate that you are committed to doing a good job.

Step 2: Raise Your Performance
Now that you've raised your standards, it's time for you to backup all that talk with some performance.
The first place you should look when considering your performance is your performance review. :)
The fact of the matter is that most people have been doing their performance review all wrong, which is why they struggle to get a raise or promotion. If you want to put your best foot forward the trick is to reverse engineer your review.
Start with the end in mind and create the review you want months before it's time to put it on paper. Ask yourself these questions:
What strengths do I want to demonstrate?

What area do I need to work on to show I'm ready for the next level?

What projects will help shape my career in the next 90 days?
Then, take these answers and complete your review as if you have already accomplished everything you plan to do.
Leave the review in a private spot in your work area and refer to it weekly. Are you taking the appropriate actions to bring your review to life? Are you working on the right types of projects and connecting with the right people?
The goal is to be in control of your own narrative. Think about what you want to be known for, write it down, and say it about yourself often until you find that others follow suit.
For example, if you want people to know you as someone who produces results, in a meeting you might say, "Let's talk about the end goal. You know how much I like to focus on results."  And just like that, you are starting to speak life into who you want to be.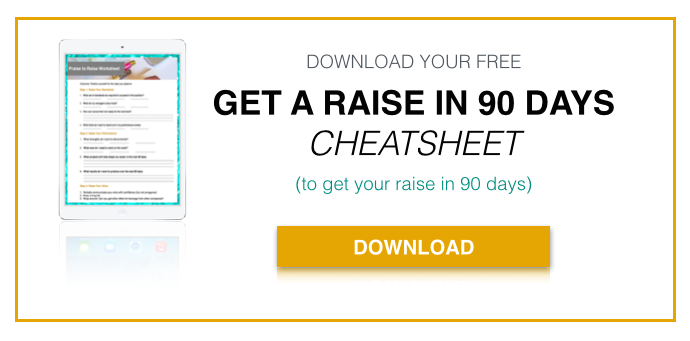 Step 3: Raise Your Voice
Getting a raise is not just about what you know or who know, it's about who knows what you know. Those are the people who are going to be your advocates. When you experience a win on your journey to getting a raise, say something.
Think of it as constructive bragging. There are probably people who are invested in your growth, development, and performance. Don't they deserve to know when you win?
For example, you might send a quick email that says, "Hey Brandon, I was able to cut expenses this season by 23%. Thanks for your mentorship." Or when you're in a team meeting you can say, "This quarter I cut expenses by 23%. Some of you were in on those meetings so thanks for the support. Looking forward to doing it again next season."
This type of direct bragging might seem uncomfortable but try it. Look to see how you feel and the responses you get until you find a way to express your wins that is uniquely your own. Just make sure that you're being direct and not annoying or arrogant.
People can't reward you or advocate for you when they don't know your accomplishments. So keep that in mind when you think that your work is going to speak for itself. And if you need to practice bragging, start with a friend or family member! Maybe even enlist the help of some of your guy friends.
Lastly, I know how often women are dinged for demonstrating direct behavior in the workplace. Such is the weight of the patriarchy. But again, don't let that bother you. 
The more you can be free to express yourself, the more likely you are to carve out a career space that fits your needs. Look at the women who are thriving in your workplace to determine if it's really where you want to grow.
This is a good way to determine what your company culture values in women's leadership. If it aligns with your own values and ways of being, that bodes well. If it doesn't align well know that you might find some opposition on your path to getting a raise or moving up in the company. If it simply is not a good fit, this is a good time to figure that out, dust off your resume, and start making some lateral moves.
Now, you know exactly what you need to do to get the raise you want.
Don't let fear or anything else get in your way. Go through our cheat sheet and you will be perfectly positioned to get the raise you want. Sure, you may not always get a "yes", but the first step is to ask for it.
After jumping off the staircase that fateful day… I could have really hurt myself. But I learned how relentless, unstoppable, and perhaps a bit stubborn I can be. Even when I'm scared. It's that very spirit that drives us to win. Now go get your raise!
Watch the video on earning what you deserve in the workplace!